Sorting, cutting, and gluing activities for preschool and kindergarten kids for workstations during class time.
Cutting keeps kids busy and helps enhance their motor skills.
This ink-saving printable contains many sorting options for kids and the opportunity to color.
This post may contain affiliate links. Please read our disclaimer for more information.
Cutting and sorting printable Activity worksheets for preschool and kindergarten kids
Sorting shapes
Sorting shapes such as circles, rectangles, triangles, and squares with images of real-life objects.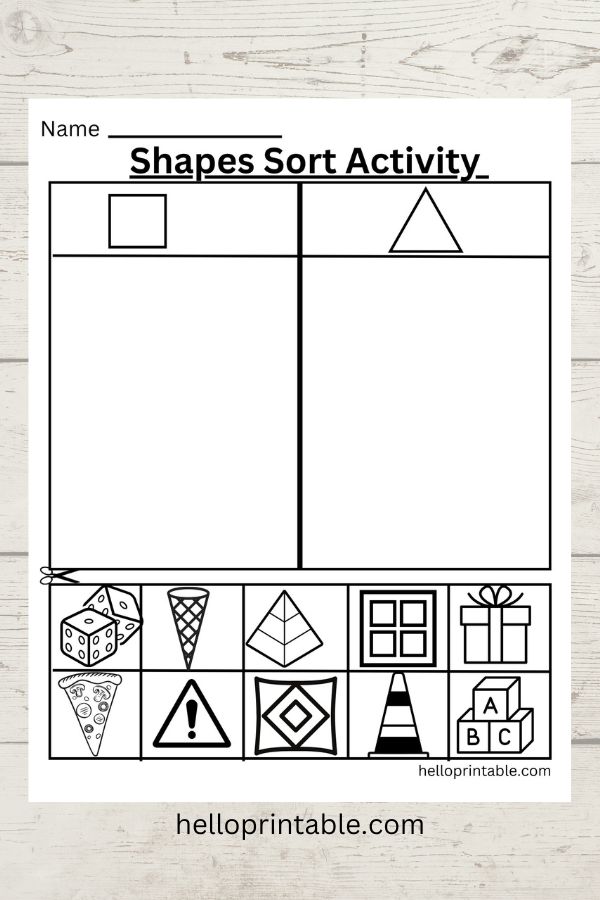 Sorting weather clothes
Learning about the difference between winter and summer clothing with various images. These are ink-saving so your kids can color the images and then cut and glue on each category.
Sorting between foods and desserts
Teach kids the difference between desserts and regular food we eat during meal times. They need to understand desserts are sweet and served after food, whereas regular food is what we eat at meal times.
Sorting between healthy and less healthy food
Food categorized as junk food is not considered healthy. They need to understand healthy food to make good choices while eating. You can explain to them why sugary drinks and sugary candies are not considered healthy.
Sorting fruits and vegetables
Kids get to know the concept of fruits and vegetables. And this will help them know the difference between fruits and vegetables.
Get this Printable Sorting activity at Etsy
Cutting numbers of activity printables for preschool