Looking for cutting worksheets to help preschoolers and kindergartners?
To improve young kids' fine motor skills and work on coordination as they cut with scissors, these free printable cutting and tracing worksheets for preschoolers and kindergartners are an excellent resource for homeschooling or classroom use.
This packet consists of various styles of cutting practice for preschoolers and kindergartners with different styles of lines like sharp zig-zag, wide zig-zag, wavy, curly, straight, etc.
All you need to do is get these sheets printed, and you need blunt-tip scissors for little hands to ensure safety while cutting.
For tracing purposes, you can laminate the same sheets or put them in a sheet protector for more prolonged use. Have your child grab a dry-erase marker and use them multiple times for more practice.
This page may contain affiliate links. Please read our disclaimer for more information.
Free cutting practice printables for preschoolers and kindergarteners
Cutting with scissors may seem easy, but kids need a lot of practice to improve their fine motor skills and learn to cut with precision. 
To help kids learn how to use scissors safely, here are some fun umbrella-themed rain waves free printable cutting practice and tracing activity sheets. 
You can also use them over the summer break for home practice to improve kids' fine motor skills and prepare them for kindergarten.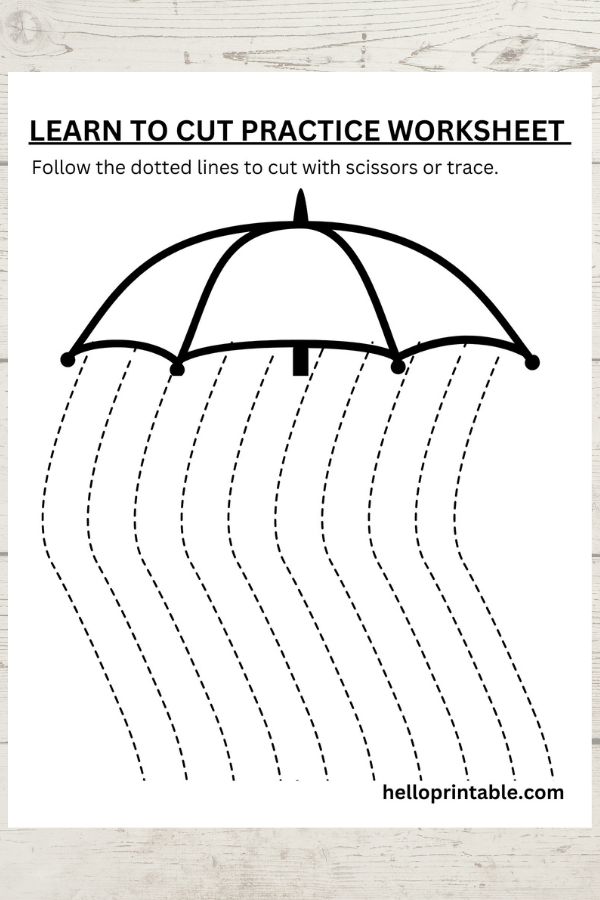 Numbers count Cut and paste activity sheets for kids
Sorting activity sheets for kids
Crack the code math worksheets for kindergarten